26 June 2011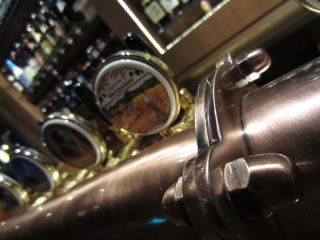 The most expensive champagne was purchased by the restaurant Buyan. A russian restaurant. Curious about Russian cuisine. I made a trip down to check it out. 

Nestled in Duxton Hill, the three storey shophouse looked really classy from the front. Eating at the bar wasn't too pricey...thoroughly enjoyed the special drink concocted by the bartender for me....i asked him to create a gin based martini for me. I wanted something sweet...and nothing NORMAL like a lychee martini. The pear martini (they use fresh juice) went down a treat. 

The food was impressive too. Definitely lined my tummy well and good for the Buyan beer and martini I had! 

I was very impressed with how much Buyan put into their presentation of dishes. It is almost fine dining standard, but it is in the bar section of the restaurant. Fine dining is upstairs!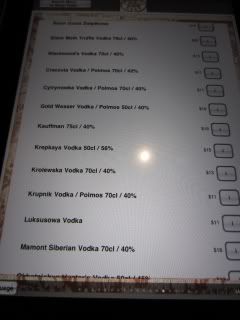 The menu is in an ipad!  Talk about about detail!

Each dish is introduced in both the russian and english name, with a short introduction of the dish.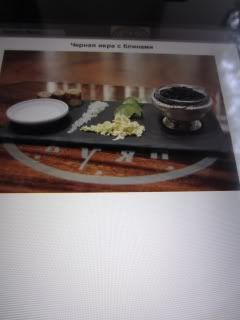 Not only that...it has a little arrow, and when you tap on it...it takes you to a full page picture of the dish!  All the food pictures are professionally shot, and man do they all look good!

mmmm....caviar.  

Great touch....because Russian food isn't very common in Singapore, it is a great idea to feature a picture of each dish.  It gives diners an idea of what it actually looks like.



The wonderfully well stocked bar!  No sorry...the most expensive champagne in the world isn't here...it is upstairs...and I hear they have a cellar that is worth a couple of million dollars!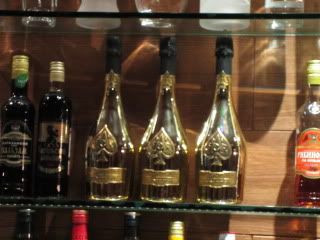 Might not be the most expensive champagne in the world...but it is a pricey one...one i have had the privilege to taste a couple of years back.

Armand de Brignac also known as the Ace of Spades.  This hand produced champagne if I remember correctly is sold at about $800 each!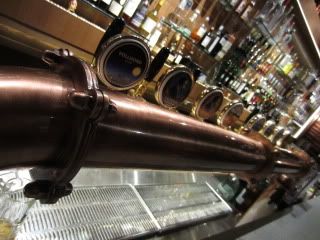 They have a number of Russian beers on tap...they even have their own beer!  Buyan Beer.  Well...I just had to try their house beer.



Buyan beer.  Smooth....thick....though it is high in alcohol content....it sure didn't taste like it.  I did feel it a little after.  But no regrets.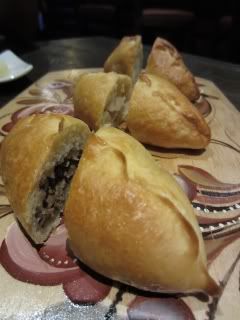 Pirozhki is essentially bread encasing some filling.  I thought it was interesting that they came in threes, each with a different filling.  It is something that is eaten very often in a Russian household.  

The dish was also served on a Russian plate.  Each one is hand painted.  Man...do they keep to the Russian theme. I like!  

Alright....back to the Pirozhki.

The bread was surprisingly moist and light.  This wasn't actually a heavy starter!  Cutting it in half helped....I got to try all three without filling up my tummy.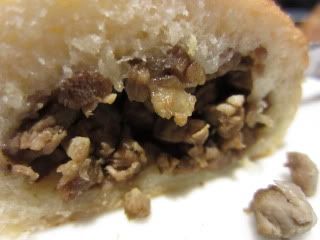 The Pork, Beef & Onion Pirozhki was my favourite.  Extremely flavourful mince.  The texture is similar to an australian meat pie.  

I noticed the meat didn't seep through the bread which is interesting cos the filling was very moist.  Well, kudos to the chef, soggy bread would have spoilt this dish...and this bread sure wasn't soggy.  

This Pirozhki was my favourite of the three.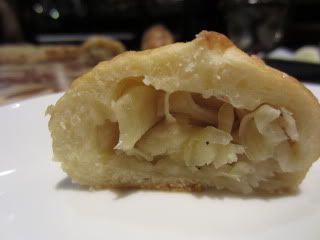 I would rank the cabbage Pirozhki second.  The cabbage was stewed till it was nice and soft.  It was chopped to bite size pieces so it was not messy to eat.  

This reminded me a little of a popiah filling.  Again, bread was not soggy...kudos to chef.  

By now, I started to realise that the guys in the kitchen know what they are doing, and I got greedier.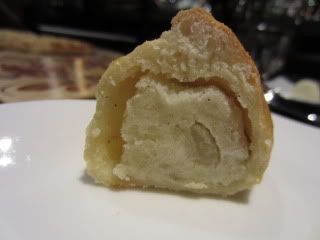 This was the potato Pirozhki.  I didn't really enjoy this.  The mash didn't have that much flavour, and just tasted of potatoes mashed up.  It would have helped if they added some spices or herbs to the mash.  This unfortunately didn't excite me.



Khachapuri was YUMMY!!  Think a pizza bread like crust with melted cheese on the top.  Yes it almost looks like a four cheese pizza, but it isn't.  There's no tomato sauce at the base...and it does not have italian herbs.  

Very yummy though.  I expected it to be quite strong in cheese flavour because it uses goat's cheese, but it ended up very mild...but flavourful.  The cheese reminded me of a blend of mozz and cheddar blend.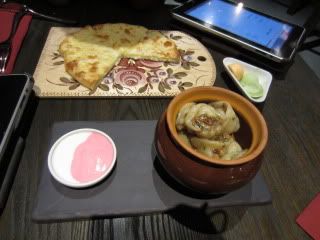 One of the highlights of my meal now.  Another traditional Russian dish that is served on New Years. (yes, new years is a big deal to the russian...they pig out I hear)

Pelmeni is essentially minced pork dumplings boiled in salted water and served with a beetroot sour cream dressing on the side.  

One is meant to dunk the dumpling into the sour cream and pop it in your mouth with heaps of sour cream.  MMMMM.....sour cream.......juicy pork....I am sold.  The only bit I was apprehensive about was the beetroot bit.  Well...I have never been a fan of beetroot.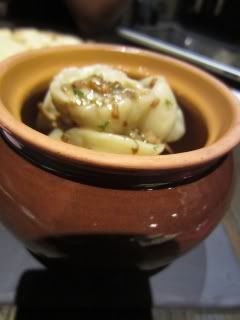 Little pot of golden goodness!  Each pot had about 7-9 dumplings...I lost count...they were too good.



The skin of the Pelmeni isn't too thick, nice round ball of mince inside.  This reminded me of a Xiao Long Bao.  The meat was juicy, well marinated with herbs.  Great flavour combination.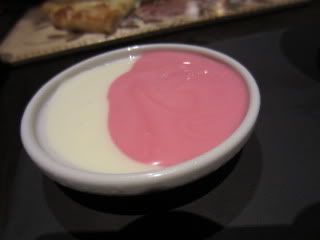 The beetroot and sour cream dip.  I like that they pay attention to even the little details.  Presentation was always very pretty.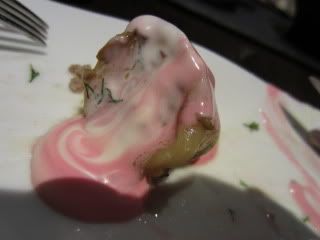 Drenching my Pelmeni with a heap of sour cream, well like they say..when in russia...do as the russians!  

The combinations of flavour is a treat to the tastebuds.  Juicy herbed pork flavour hits you first, then the sour cream cuts through that flavour and gives it a rich finish.  The beetroot flavour didn't really come through which is good cos...errr...not a fan.

I couldn't stop at just two...i just kept popping them in mouth!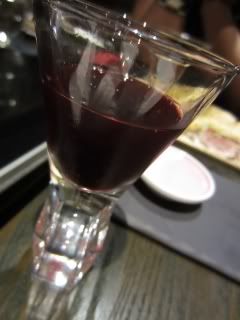 One of the things Russia is famous for is their vodka! When I heard they have a range of infused vodkas that they do inhouse....HAD TO TRY.  

There are 20 different ones to choose from...some normal stuff like strawberry vodka....cranberry vodka...but there were some really unique ones like Lavendar, Mulberry etc.

The herbed vodkas like Lavendar and mint is higher in alcohol content because well....there's nothing to absorb the alcohol.  Whereas the fruit ones, the vodka infuses into the fruit.  So that is the one I picked. The milder one...a mulbery vodka shot.

When it arrived at the table, I was quite surprised, the colour of the vodka was so dark and opaque, well it looked like a cocktail shot!  

It smelt wonderfully fruity, and at first sip I was super duper happy.  It didn't burn, actually I couldn't taste the alcohol in the shot.  It tasted sweet and fruity.  It was definitely thicker because the fruit juices had infused into the vodka.  The little berries at the bottom infused with vodka was a treat too.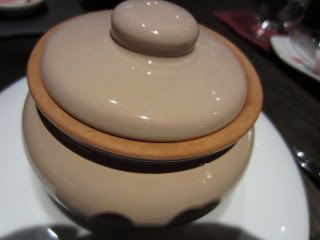 When I was flipping through the menu, this dish peaked my imagination.  It had stuff I like all rolled into one!  Soup...check....lamb...CHECK!....spiced...check....hit me...I needed to try this....Karcho is what it is called.  Essentially a Georgian Lamb Soup.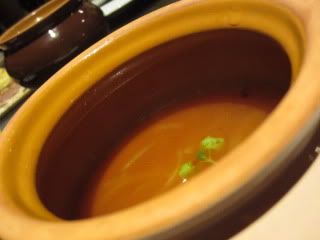 Karcho, the Georgian Lamb Soup was so so so yummy.  I shared this...and can I say..I kinda regret it.  I was digging the bottom of bowl...hoping for more of that yummy liquid.  

It reminded me of a Minestrone soup with lamb in it and a punch of spicy heat.  Oh man....it was so good.  

It's a clear tomato flavoured broth, with heaps of finely sliced onion (boiled till they are almost completely melted away) to sweeten the soup, with tender pieces of lamb.  

You gotta try it to believe me...words can't describe how good this one.  The spicy soup went so well with the tender lamb.  I wish they had a bit more lamb pieces though.  What am I talking about, I wish I had more soup...FULL STOP! Heh!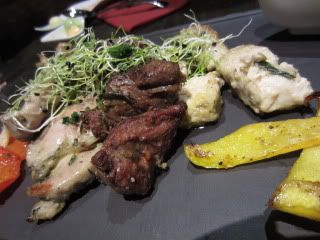 Finally...Main course.  Yes....I sure can eat huh.

If at a Russian restaurant...I think it is just a must to order Shashlik which is essentially roasted skewered meat.  I was curious to see if the restaurant could get this right.  It had to be full of flavour (meats are meant to be marinated overnight) and not the least bit dry.  

Another reason why I had to order it was because it featured Sturgeon fish.  Never tried the meat..only the caviar.  I even googled Sturgeon to check out what the fish looks like...and can i say it is UGLY!  Anywy...back to the Shashlik.  The main came with pieces of skewered chicken, sturgeon and lamb, with a side of perfectly roasted peppers and a homemade tomato sauce that tasted like really good salsa puree.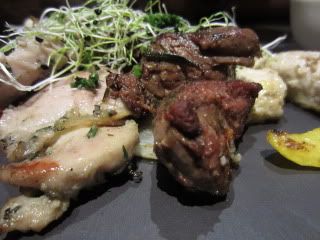 The lamb was the highlight of the Shashlik for me.  Well marinated...i tasted a hint of mint among the other herbs on it...juicey...tender....perfecto!  The Sturgeon was surprisingly yummy.  Not at all fishy in taste, had a flakey texture, kinda like mackerel.



This is the Sturgeon fish in the Shashlik dish.  See the herbs and the texture.



Delicious lamb...still slightly pink in the middle.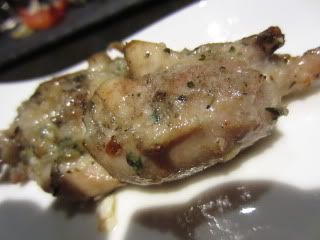 Chicken, which lets face it...skewered...I expected...dry...tough...blah flavoured meat.  WRONG.  They used the thigh portion of the meat, so it was tender and juicy.  The meat was well marinated with herbs...and I have a suspicion some yoghurt..which made this skewered chicken a class of its own.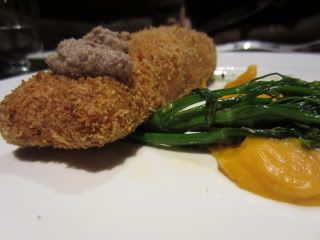 The other main was Trout with Nut Sauce.  Can I just say trout when it is not filleted is just DIFFICULT to eat.....when the wait staff shared that it is filleted...again...had to try.  

Trout is one of my favourite fish, a greasy fish like salmon...but the meat is so sweet and tender!!  Always a fish I enjoy...and i actually have very high standards when it comes to trout dishes.  The fish has to be cooked just right, so that it is tender and juicy, right amount of flavouring to be added where it enhances the flavour of the fish but not over power it.  

Buyan did well.  The trout was very evenly breaded which gave a nice crunchy texture that complimented the soft flaky texture of the fish.  

The nut sauce was slightly creamy and it helped enhance the flavour of the fish.  

I likey.  Will order this again...next time. heh.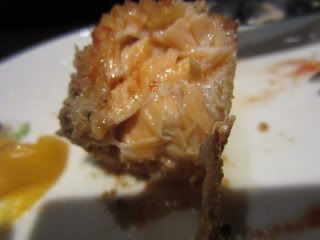 Look at that piece of trout!  perfectly cooked.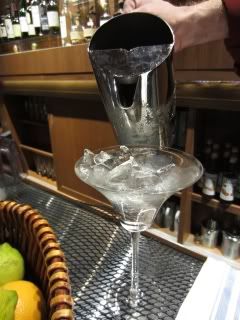 So I challenged the bartender to make me a special martini...something not sickly sweet...gin based...and unique.  He thought all of 30 seconds and got to work...can i say...it was fab.  Chilling the glass....tick...important step that some bartenders skip..he didn't.  Good.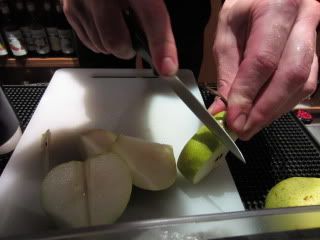 I was also delighted when he whipped out some fresh pears.  I like bars that use fresh fruit juices instead of bottled stuff.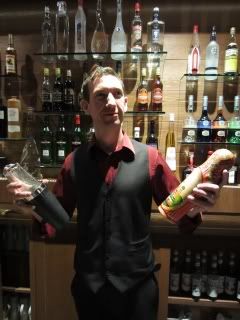 Mucking around with the bartender...he shook the right one...the shaker and not the russian nesting doll.  :)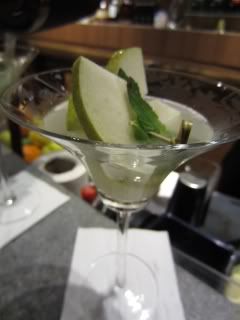 Pear and mint martini....can i just say it was delicious!  The mint cut through the sweetness of the pear...totally refreshing!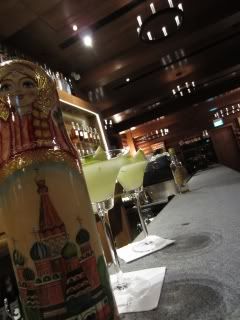 Russian nesting doll a little disappointed i aint sharing!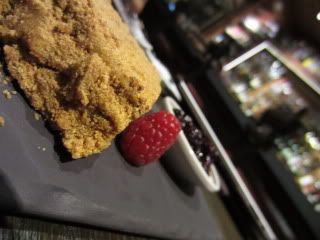 Honey Cake was well...not what i expected.  I expected a fluffy buttery cake drenched in golden sweet nectar.  Instead it was a cake that had a honey graham cracker texture...and between the layers...salted butter.  Quite hard to cut into and eaten with a berry jam of sort.

I think this was the only dish I thought was a little disapointing...but then again it just isn't what i had expected in my head and my fault...i didn't click on the little ipad arrow to see what it looks like.

Overall, this was a fantastic meal...and I think the next time I am there.. and yes there is a next time, I am having the Chicken Kiev for main!! mmmmmm.....

Buyan
Address: 9/10 Duxton Hill, Singapore 089593
Tel:+65 6223 7008